I was nine when I began fly fishing, and until I was seventeen I hardly wore footwear when trout fishing. My soles became so tough that the gravel roads, boulders and cobbles of river beds, and sharp stumps of burnt Drakensburg mountain grass, caused no discomfort.
After seventeen it was no longer cool to walk around barefoot, so my soles became soft and I searched for suitable footwear for trout fishing. I first wore a pair of 'takkies' (sneakers) I already owned but these soon fell apart.

The first pair of boots I purchased for fly fishing were made in South Africa for hiking, with kudu-skin uppers and re-cycled car-tyre soles. Although incredibly durable, and fine for fishing lakes, these hard rubber soles were treacherously slippery and resulted in many falls on South African Western Cape freestone streams. A second pair of boots with African buffalo uppers and heavily-treaded new Pirelli tyre soles, fared no better.

When we moved to New Zealand and began exploring the challenging backcountry bush streams of the Tararua Mountain range, these tyre sole boots nearly became the death of me.

A day on a bush stream usually consists of a considerable tramp along a forested mountain track, then about 10km of hopping boulders and wading high-gradient fast-flowing streams with beds of slippery boulders and cobbles or bedrock. While the boots were great for the track, they caused many dangerous tumbles on river rocks and resulted in me spending more money on purpose built footwear.

My first 'proper' pair of wading boots were felt-soled and made by local New Zealand company 'Riverworks'. I experienced grip on algae-covered rock surfaces I never dreamed possible, and only had to be careful when stepping from exposed gravel onto dry rock, when small rounded stones sticking to wet felt became like ball bearings.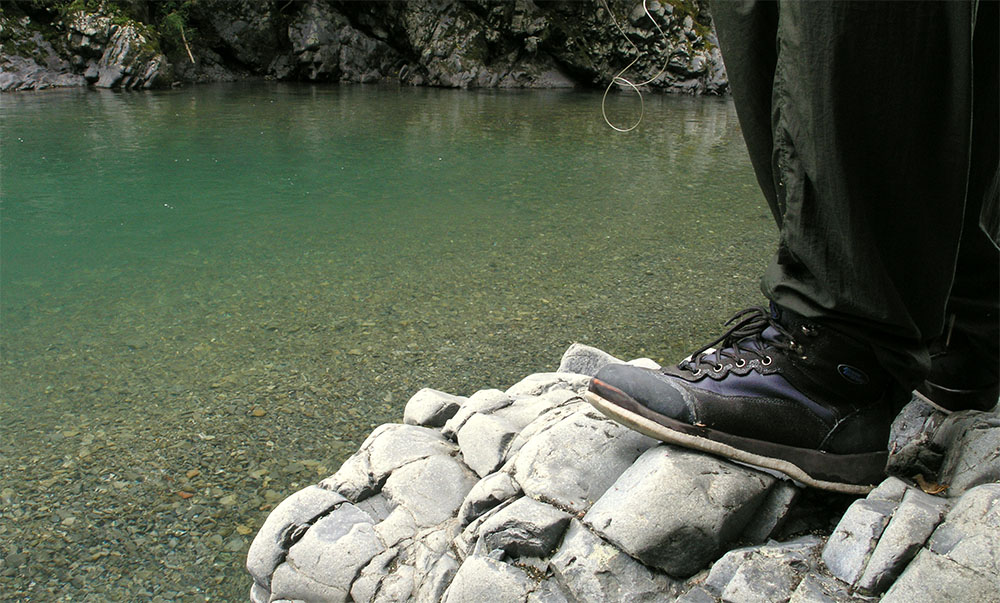 To increase the boot's durability, I coated all the external stitching with glue to protect them wearing through from scraping against river boulders. I also did all my hiking to and from the river, in hiking boots. Despite my efforts the felt soles had worn through after two seasons and the sides beginning to split.

Now a felt sole convert, and wanting something more durable, my second pair of boots was the Riverworks 'Guide' series. In my new boot's second season and still in great condition, felt soles were banned in New Zealand to combat the spread of Didymo. I then resorted to wearing leather hiking boots but the glue soon failed and the soles detached from the uppers.

I bought a pair of Simms Freestone boots with soft Vibram soles that were advertised as being as effective as felt for grip, but more durable. They were as slippery as eel skin in comparison to my felt soles. After only two seasons the Vibram tread had worn smooth and the synthetic uppers were splitting. The boots were also heavier than I preferred, especially when walking the long track home.

This is not to say the Simms Freestones weren't comfortable, or that they aren't great boots for the purpose they were designed: fishing rivers with lots of trout so an angler only has to cover a kilometre or two daily. The Freestones were simply not suited to covering large distances on rugged New Zealand bush streams. I should also mention that Simms have perfected the technology for gluing the oil-rich soft Vibram to the boot, so at no stage was there any evidence of the soles coming away, not even once they had worn somewhat.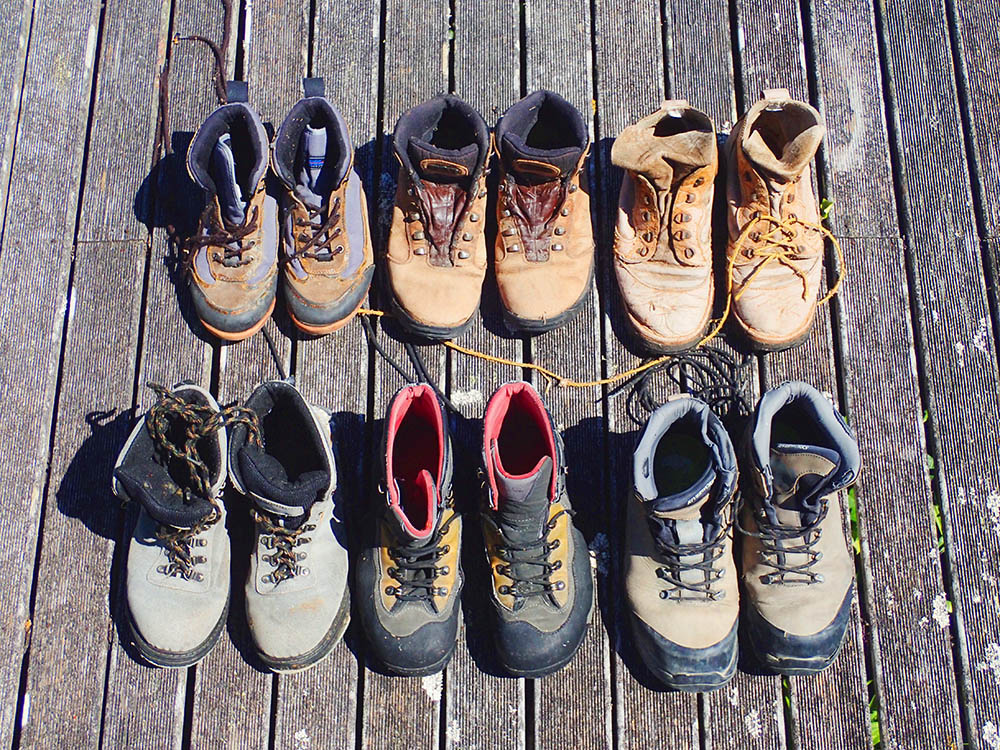 In 2013, Riverworks produced the first pair of boots specifically designed for New Zealand backcountry conditions.
In 2014, I purchased a pair of their X-series wading boots. Key features of this design included: heavy duty Nubuck leather uppers with no stitching on the sides of the front part, where it is most prone to wearing against boulders on the river bed, causing splitting; durable moulded-rubber soles with thicker tread in high-wearing areas beneath the toes and heels; an EVA mid-sole hidden within the moulded rubber for cushioning and comfort; a neoprene lining for comfort; and alloy roller eyes for smooth lacing.

The X-series wading boots are based on one of Riverworks' most successful hunting boots, so it isn't surprising they proved comfortable over long distances.
After a fishing trip or two, the Nubuck uppers moulded to the shape of my foot. Given that the soles are made of softish rubber I never expected these boots to grip on slimy rocks, like felt-soles did. What surprised me though was that these soles seemed no more slippery than the purpose made soft Vibram on Simms Freestones.

Metal studs screwed into the X-series soles improved the grip on some algae-covered boulders, but were treacherous when boulder-hopping on dry rocks, and after just one 14 km trip the studs had worn flat.

My solution to fishing without felt soles was to find a piece of sturdy driftwood stick to use as a hiking and wading stick for the journey home.

When I first tried the X-series it was clear they were made to last. But I didn't realise how tough they were until they eventually needed replacing after three solid seasons. I added up the mileage, with the help of my fishing journal, to find I had covered 455 km over some very rough terrain. Thanks to the roller-eyes the laces tightened easily and lasted 320 km, which I think is unheard of for a wading boot.

For comfort and durability, without sacrificing grip in the post-felt-era, the Riverworks X-series wading boot is by far the best boot I have yet to wear for New Zealand backcountry bush streams. And they have performed very well on the Tongariro and Ruakituri rivers too!

No prizes for guessing what make my next pair of wading boots was.


See other reviews :