Rio Skagit Max Power Shooting Head Review
Rio Skagit Max Power shooting head was released by Rio in 2021, it replaces the Max Short, and it differs from its predecessor in three primary areas:
1. The belly is tapered, so it has a more or less delta profile.
2. It is constructed with Rio's new Slickcast coating on their low stretch ConnecCore.
3. It is salmon pink, instead of teal blue, with a dark blue instead of bright orange 2 ft rear portion.
The Skagit Max Power is available in weights 325 to 650 grains, and lengths are: 18 ft for the 325 grain, 19 ft for the 350 and 375 grains, and 20 ft for all the rest.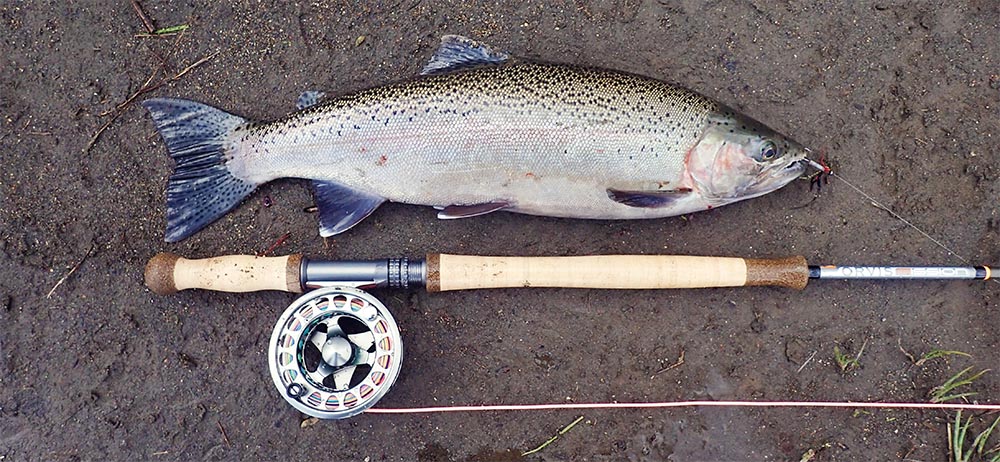 These heads are super slick, they have very neat welded loops, and despite the long front taper a lot of thought has gone into producing tips that are not too skinny, and just the right thickness for each head weight.
For this review I tested the 350 and 375 grain versions on a 12 ft 5wt Orvis Mission two hander.
On the water The 350 and 375 grain Max Power heads are without doubt the smoothest and most enjoyable casting floating Skagit heads I have yet to fish. They lay out straight and smooth, cast after cast - no snaking garden hoses, wagging tails, or clumsy splash.
At 19.5 ft long, they are the perfect length for casting 10 ft sink tips on a 12 ft rod. On the water the long front tapers on the Max Power heads sank progressively under the weight of the sink tips, allowing for greater depth and eliminating hinging. No need for dual density tips. Both lines cast well on the 5wt Mission, but the 375 grain accessed the power in the mid portion of the blank, giving me better feel and distance, and was therefore my choice for this powerful rod.
Although a 19 ft Skagit head cannot cast quite as much weight as a 15 ft head of equivalent weight, the 350 and 375 grain Max Power heads were very comfortable with 10 ft of T-11, 12 ft of T-8 and 10 ft 120 grain SA Third Coast tips. These tips all felt and cast like integrated parts of the fly line, with no hinging or recoil.
The incredible performance of the Max Power is due largely to the clever taper, but also, and I am sticking my neck out here, to what appears to be a fairly dense coating. I base this somewhat tenuous conclusion on the fact that the Max Power heads I tested are thinner and do not float as high as other heads I own with similar weights and lengths.
They also do a better job of slicing through wind. Since the front three quarters of the head was under water during the swing, I would have preferred a more natural colour for the last few feet, say grey or olive. Brown trout have better vision at the red end of the colour spectrum than do humans, so salmon pink is highly visible to them. Stretch Stretch on the Max Power heads is almost imperceptible.
While I don't believe low stretch does much to improve hookups when swinging streamers - since we usually allow fish to turn and hook themselves - low stretch definitely does increase sensitivity for detecting: flow patterns, subtle misses, and when the fly lightly touches the bottom. All of which helps me adjust my casting angles and sink tips to make me a more effective angler.
Talking of increased sensitivity, it makes sense to pair the Max Power with a low stretch sink tip, e.g. 10 ft of Rio T-8 or T-11.
Conclusion
The 19-20 ft Skagit Max Power is the perfect length for 12 ft double handers, and the continuous front tapers and special coatings make these Skagit heads incredibly smooth casters with fantastic presentation.
I did not realise casting floating Skagit Heads and 10 ft of T-11 could be quite so graceful or as much fun. The small neat rear loop slipped exceptionally smoothly through the guides when fighting fish. Loops on most Skagit heads pass easily enough through guides when retrieved on a straight rod, the real test comes when the rod is bent.
I highly recommend the Max Power heads for 12-12.5 ft rods and larger New Zealand rivers.
Rio would also do well to introduce belly tapers and the Slickcast coating to their Skagit Trout Spey series designed for shorter rods.
See other reviews :