Rio Replacement Tips span the gap between coated leaders and level sink tips. They are built on low stretch braided cores, instead of monofilament, have welded loops at both ends with an approximately 3 ft front taper.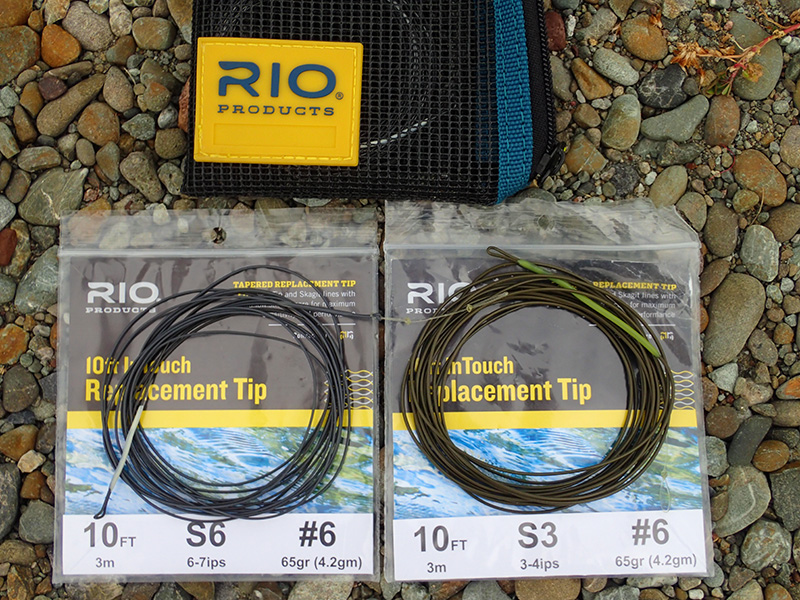 The 10 ft Replacement Tips come in line rating 5-9 and grain weights 55-95 grains, and within each line weight there are four sink rates: floating, 1.5-2 ips, 3-4 ips and 6-7 ips. All sink rates for a particular line rating have the same grain weight, e.g. the 5 wt tips all weigh around 55 grains and the 6 wt tips weigh around 65 grains.
A unique feature of the S3 and S6 Replacement Tips is they are density compensated, so the tapered tips do not sink slower than the thicker butt sections, which is an issue for faster sinking coated leaders.
On Skagit Heads
Rio Replacement tips make fantastic sink tips for light skagit heads.
Five and six weight S6 10 ft Replacement Tips have the same sink rate as 10 ft of T-8, but being substantially lighter have become my go-to sink tips for the light Skagit heads I use on 9-9.5 foot 5 wt single hand rods.
I use the 5 wt tips on 150 grain heads shorter than 12.5 ft (e.g SA Skagit Lite), and on 175 - 200 grain heads longer than 14 foot (e.g. Airflo Scout and Rio Skagit Trout Spey).
The six weight Replacement Tips are perfect for 180 grain Skagit heads in the 11 to 12 ft range, e.g. SA Skagit Lite, as they provide additional line stick and smoother transfer of energy for gruntier heads.
The 5 wt Replacement tips will easily handle a size 6 streamer with 4mm brass bead, and the 6 wt will happily turn over a tube fly with extra small tungsten cone. Presentation is a lot better than with a length of T-8 - although the level-T is better able to turn over larger flies, e.g. 2.5 inch rabbit strip tube flies with medium tungsten cones.
My S6 Replacement Tips see the most use, but the S3 tips are useful for shallow riffles and tail-outs and for lakes.
On Hybrid Heads
Another outstanding Trout-Spey application for 5 wt and 6 wt Replacement Tips is on Rio Trout Spey and Scandi Body heads with double-handed rods. Both of these heads have long gradual front tapers, like Scandi Heads, but they are only 22 or 23 ft long, and the relatively thick tips are designed to cast sink tips.
The 10 ft 5 wt Replacement Tips fish well on 265 and 305 grain heads and the 6 wt Replacement Tips are a good choice for 325 and 350 grain heads.
With a Trout Spey head and a Replacement tip you end up with the fun and grace of a Scandi head, but with some of the reach and versatility of a Skagit. This is a great combo for larger rivers in summer.
Conclusion
My Rio Replacement Tips have seen a lot of action on everything from small streams to large rivers and estuaries - for trout, sea trout and kahawai. Apart from brilliant performance they have also proven to be incredibly durable.
I cannot say enough about these versatile sink tips - my Trout Spey experience would not be the same without them.
See other reviews :