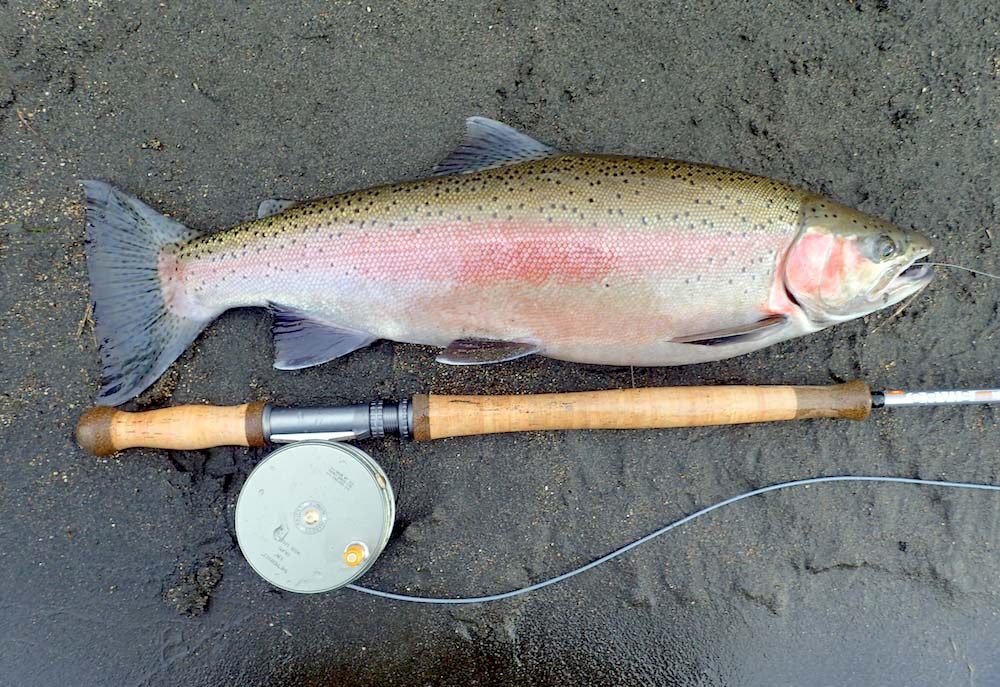 I broke my Sage Trout Spey HD and with the repair taking an estimated four or five months I began looking for a backup 4wt double hander. Due to the exceptional performance of my Orvis Mission 5wt over the last three years, this series seemed a good place to start.
The Mission 4wt is 11 foot 4 inches long, so one inch longer than my Sage Trout Spey and eight inches shorter than the Mission 5wt. The Mission's grips plus reel seat measure 20.5 inches for the 5wt and 17 inches on the 4wt.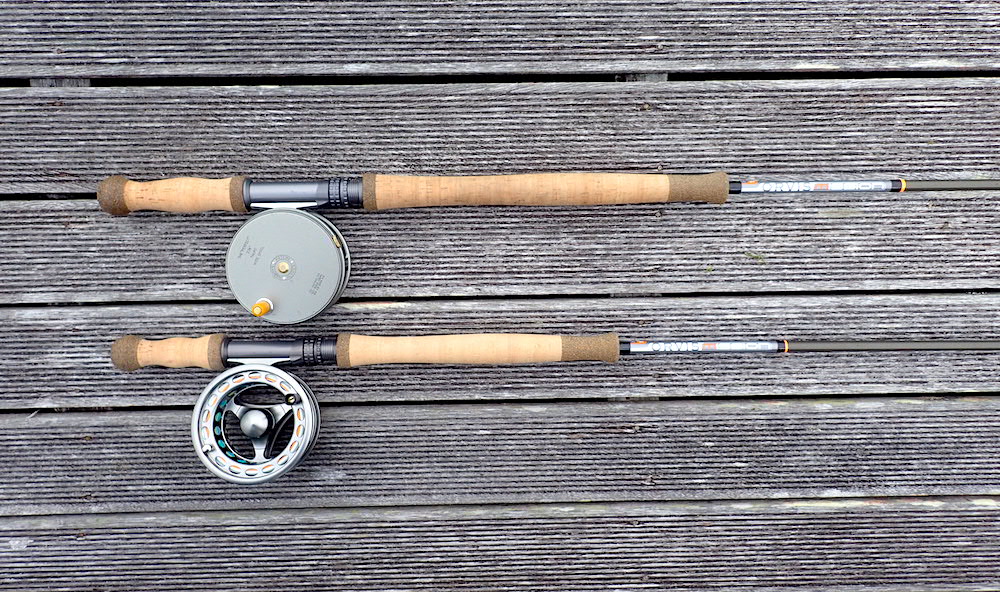 Grips of the 4wt and 5wt Orvis Mission double handers
The fit and finish on the Mission 4wt is top notch and identical to the 5wt. Read my Mission 5wt review later for more detail. What I will add to that review is that after extensive use of the 5wt, the matt olive finish on it and the 4wt is incredibly durable and does not scratch when placed on boulders, unlike the varnish on other high end rods I own.
Rod Action
The 4wt Mission is incredibly light, recovery is fast and the rod dampens quickly. Like the Mission 5wt, the 4wt has a progressive Spey action but with less flex and more power in the butt than a lot of Trout Spey rods - in other words more 'Scandi' than 'Skagit'.
Even though the Mission rods have a 'Scandi' action this doesn't mean they aren't good at casting Skagit heads. Apart from the standard Skagit sustained anchor casts, like the Snap-T or Double Spey, they excel at touch-and-go casts with Skagit heads, the snake roll being one of my favourites.
The Mission action provides a faster more aggressive casting style and allows me to put more oomph into the tail end of the power stroke to achieve greater distance.
The Mission 4wt can handle a pause for a D-loop to form and an anchor to set - unlike slower fuller flexing rods that cast Skagit heads best with a constant motion - as it has the speed and power to launch the head with a relatively short stroke.
Line Testing
Orvis line recommendations for the Mission 4wt are 310 grains for Skagit and 260 grains for Scandi. The recommended grain window is 260 - 330 grains.
I tried the following heads on the Mission 4wt:
• Scientific Anglers Skagit Lite intermediate heads - 270 (14.5 ft) and 300 (15.5 ft) grains,
• Scientific Anglers Skagit Lite floating head - 270, 300 and 335 (17 ft) grains.
• Scientific Anglers integrated floating Skagit - 365 grains
• Airflo Skagit Scout - 300 grains (15.8 ft)
• Rio Skagit Max Power head - 355 grains (19.8 ft)
• Scientific Anglers Scandi Lite - 300 grains (24 ft)
• Rio Scandi Body - 325 grains (23 ft)
The Skagit heads were cast with 10 ft of T-11 and 10 and 12.5 ft of T-8.

The Scandi Body was paired with a 10 ft #6 S6 Rio Replacement tip and the Scandi Lite with a 10 ft S6 SA Sonar Leader.
I used OPST Lazer Line and SA Flat mono as running lines, both in 35 lb. Grain weights provided are actual (not advertised) grain weights.
The 4wt Mission is an absolute cannon that really is a 4.5 wt. All of the lines I like using on my Sage Trout Spey 4wt were too light, and the Trout Spey HD is a powerful rod.
Even though I like Skagit heads on the lighter side, I found the Orvis recommendations to be about 30 grains too light for my taste.
It seems the 4wt Mission likes a longer floating Skagit head with a belly taper. The 17 ft 340 grain SA Skagit Lite and 19.8 ft 350 grain Rio Max Power with 10 ft of T-8 or T-11 were incredibly smooth, tight looped, fun combinations.
With more grains per foot, the Skagit Lite was better with 10 ft of T-11, and being slightly shorter also easily handled 12.5 ft of T-8.
The longer Rio Max Power with 10 ft of T-8 or 3D MOW tip was the presentation option - it almost felt like a 2D Scandi.
I generally find that longer Skagit heads (19-20 ft) perform best when they are around 20 grains heavier than the shorter heads (14-16 ft) that match a specific rod.
If you want to use a shorter head on the Mission 4wt, which would have the grains per foot to cast 10 ft of T-14, then a Skagit Scout of 330 grains should be spot on. But you won't throw the impressive loops that this rod generates with a longer head.
The Mission 4wt handled the 365 grain integrated Skagit Lite without any problems. Although many anglers may prefer the deeper load, which makes the outfit feel decidedly 'Skagitty', I prefer the crisp feel of the rod with the 335 grain head.
The Mission 4wt casts noticeably further with mono than coated running lines, which also seem to better suit its lively action. The power and line speed generated by the Mission 4wt resulted in several tangles with the Lazar Line, while the SA flat mono proved to be a much better choice for this rod.
Almost all my Tongariro winter fish are caught on SA intermediate heads, either 270 grains on the Sage Trout Spey 4wt or 330 grains on the Mission 5wt.
I like my intermediate Skagit heads 25 or 30 grains lighter than the floating heads that match each rod, as they tend to have a bit more line stick than their floating counterparts.
I found the 300 grain SA intermediate Skagit Lite with 10 ft of T-11 perfect for the Mission 4wt. The 270 grain version was too light and the 330 grain version a tad heavy for my liking, although other anglers may prefer the deeper load provided by the heavier head.
As might have been expected from its 'Scandi' action, the Mission 4wt excels at casting Scandi heads, and both the 325 grains Rio Scandi Body and 300 grain SA Scandi Lite were a pleasure.
If I had to choose one head it would be the Scandi Lite as I found it achieved slightly better presentation in calm conditions and also casts better into wind.
The Scandi Lite has a skinny tip that doesn't handle much more than a S6 Sonar Leader, but because the skinny tip is dragged under by the S6 leader there is less hinging on the water and I achieved more depth than I thought possible. Another advantage of this skinny tip is that the head performs well with a tapered mono leader when swinging flies near or on the surface and you don't need to add a floating tip.
Fighting Fish
The Mission 4wt has a lot more power in the butt section than the average 4wt and is easily capable of controlling fresh-run rainbows of 5 lb or more in fast water. Having said this, it is not too much rod for a 2 lb sea trout.
I prefer fighting fish on rods that have a 'Scandi' action as they're more lively and transmit more of the fish's movement.
I find that deeper flexing rods provide less control and tend to feel spongy as they dull a fish's head shakes and delay reading the fish's intentions.
Reel weight and Balance
When it comes to reel size and balance, I prefer a reel that balances my two handers somewhere between the index and middle finger of my top hand when holding the grip for casting. This way, the rod's fulcrum is in close to where it should be, but more importantly the rod is balanced with neither tip up or tip down during the swing and I don't need to shift my hand after the cast.
An ideal reel weight is largely determined by the length and weight of the rod blank but is also influenced by the length of the grip - a shorter grip like the Mission 4wt requires a slightly heavier reel because the top hand is closer to the reel.
I tried a number of different reels on the Mission 4wt, including a Hardy Taupo Perfect (9.5 oz), a Sage Trout Spey 3/4/5 (8.25 oz), Danielsson L5W 4seven (7.25 oz) and Danielsson F3W 4seven (6.1 oz). All weights were with backing and mono running line.
The balance point for the F3W was forward of my index finger and below the tip of my thumb when gripping the rod to cast. The light weight of the F3W reel complements the light crisp action of the Mission 4wt and gave me the most feedback on line load, however the 4wt rod was slightly tip heavy when swinging and enough to be annoying.
The balance point for the Danielsson L5W is in the middle of my index finger, so it's a perfect balance for casting and for swinging flies.
Balance points for the Sage and Hardy reels were further back at my middle and ring fingers. While this is theoretically okay, because it places the fulcrum point in the middle of my hand, the additional weight seemed to dull the feel and fun of casting this light crisp rod.
I find heavier reels are less of a problem on Skagit style rods with more flex in the butt, as the casting stroke is slower and one relies more on flex than weight to detect load. The weight of the reel actually assists with this slower more relaxed casting style, whereas the reel's weight resists the quicker stroke required for a faster rod.
My ideal reel weight for the 4wt Mission, which was a tradeoff between lightness and balance, was around 7.5 ounces loaded with backing and running line. The Danielsson L5W 4seven, loaded with 100m of 50 lb braid and 30 meters of 35 SA flat mono, was spot on.
Warranty
Like all Orvis Rods, the Mission series have a 25 year warranty where Orvis promise to repair a rod regardless of how it was broken. If the rod was produced after 2019, which includes the Missions series, this means providing a replacement section.
If you live in the USA the repair is arranged online and you will have your replacement section within a week. Cost is US $60.
If you live in New Zealand the broken rod is sent back to Kilwell Sports, the New Zealand distributer for Orvis, who order in a replacement section. Turn around is approximately six weeks and costs NZ $100.
Conclusion
The Orvis Mission 4wt is a light, smooth and crisp casting rod that can shoot prodigious distances, especially with a mono running line.
It is excellent with Scandi heads for a light presentation and equally good with a Skagit head, 10 ft of T-11 and a 3 inch tungsten cone rabbit streamer.
Unlike many 4wt two handers, the Orvis Mission has the power in the butt to handle fresh-run rainbows of 5 pounds or more in fast water, and would be very much at home on the Tongariro in winter.
The fish-fighting rocket-launching butt power of the Mission 4wt does come with a price, and that is less feel than a rod with more flex through the lower portion when casting Skagit heads with sustained anchor techniques. The Orvis Mission may then not be the best choice for someone starting out with a double hander and Skagit heads - although using a heavier head to achieve a deeper load will help considerably.
For Scandi heads and for the intermediate or advanced caster using Skagit heads, the Mission 4wt is a high performance tool that could take casting and fishing to another level - as it did for me.
Based on my experiments and casting style, the Mission 4wt has a wide grain-weight-window of 300 to 375 grains, with the ideal Skagit weight depending on both head length and whether it is floating or intermediate.
My favourite Skagit heads for the Mission 4wt are : a 17 ft 335 grain SA Skagit Lite, a 19.8 ft 355 grain Rio Skagit Max Power, and a 15.5 ft 300 grain SA Skagit Lite Intermediate.
When it comes to Scandi heads my choice is the 300 grain SA Scandi Lite with either a 10 ft Sonar or standard tapered leader.
If you like the taper of the Rio Trout Spey series or you don't like fishing Skagit heads, a 325 grain Rio Scandi body and 6wt Rio Replacement Tips is a great versatile option.
If I had to own only one double hander for New Zealand, the Orvis Mission 4wt would be that rod. There is no medium or large river it would not be at home on, including the Tongariro in winter, and it is such a fun rod to cast.
Thanks to Kilwell Sports, New Zealand, for providing the Mission 4wt for testing.
See other reviews :