I always wanted a classic Hardy click and pawl reel for a trout Spey rod, although I'm very happy with my Sage Trout Spey and Danielsson 6nine fly reels. And one doesn't get more classic than the indestructible Hardy Perfect series first produced in 1890 and with the longest record in the history of fly reels.
The Taupo is a wider spooled version of the original 3 7/8 inch diameter Perfect, introduced in 1958 to provide extra line capacity to handle the large trout of New Zealand's Lake Taupo fishery - think Tongariro River.
Although the original Taupo Perfect was produced between 1958 and 1962, it became highly sought after by salmon and steelhead fishermen in the 1990s - testament to the function and durability of Foster Hardy's Perfect design.
Owing to its popularity, the Taupo was re-introduced in 2011 as part of the new Wide Spool Perfect series.
This new version of the Taupo was identical to the original except for the following improvements: CNC machined from 6061-T6 bar stock aluminium instead of die-cast; deep anodising instead of an enamel coating; a lighter twin pawl check mechanism; and a modified full cage design that precludes the need for a circular line guard.
Given the Perfect's long history with spey casting, and the Taupo's connection to New Zealand's Tongariro river, I could not think of a better 60th birthday present.
Setting it up
Although the advertised weight of the new Taupo is 9.9 ounces, the actual weight measured on an electronic scale was 7.8 ounces. The reel weighed 9.5 ounces when filled with 200 m of 100 lb Daiwa hollow core J-braid and Scientific Anglers 35 lb flat mono shooting line it balanced my 12 ft 5wt Orvis Mission Perfectly. It also looked amazing.
I used the 100 lb hollow core as backing instead of 30 lb Dacron, which has the same diameter, as polyethylene braid absorbs less water, dries more quickly and is less prone to mould, especially on a spool with limited porting. Filled with the hollow core backing the reel also weighed 0.7 ounces less than when filled with 30lb Dacron - which was good for balance on a 5wt two-hander.
With 200 m of 100 lb hollow core and the mono running line there was plenty of space for a 375 grain Skagit head and 10 feet of T-11.
On the water
My Taupo's debut was on the Tongariro river in September 2023 where it landed 50 odd silvery fresh-run rainbows of 3 to 5.5 lb, each of which had the reel singing sweetly multiple times … and that's indeed a very sweet sound.
The clicker mechanism on the Hardy is smooth, rich and not overly loud, due to the large diameter fine-toothed check wheel (gear) sandwiched between two solid plates that muffle and resonate the sound. The ball bearing running against the winding plate also contributes to the smooth operation of this reel.
Hardy Perfects don't have a palming ring but the back of the spool is completely exposed for this purpose.
It took me a while to get used to fighting fish by using the back of the spool instead of dropping the index and middle fingers of my reel hand onto the palming ring. It took a split second longer to apply drag pressure, which left me feeling I had a bit less control but not enough to lose any fish.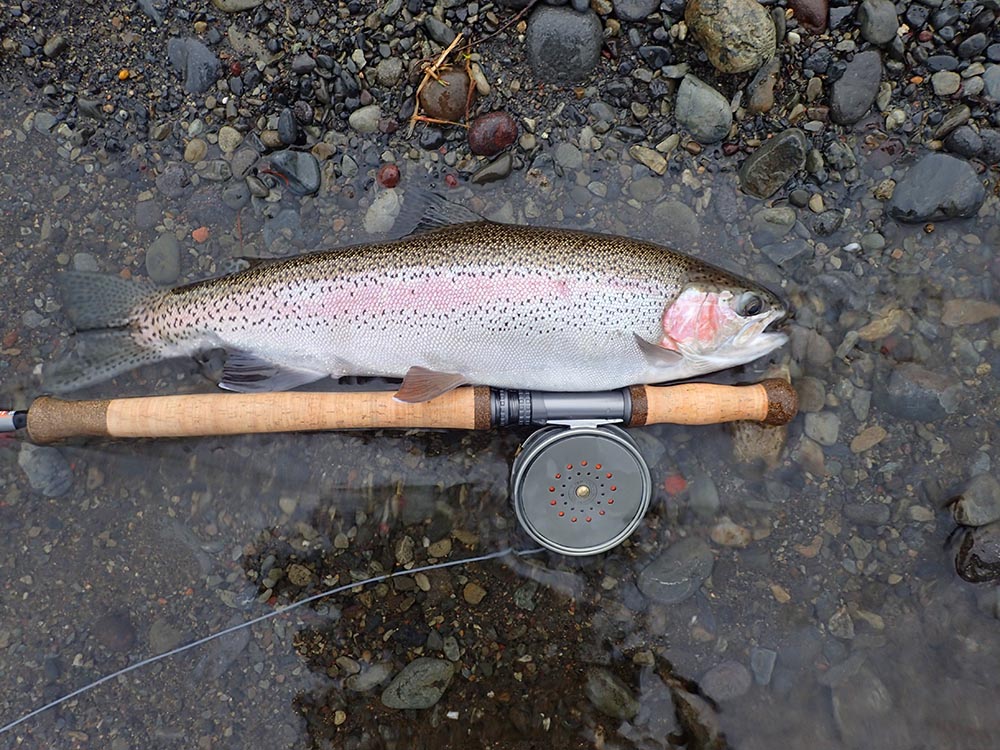 The back of the Hardy Perfect spool is completely exposed to allow 'palming', although thumb or fingers are usually used
Fresh-run Tongariro fish charge off on several decent runs, between which they often swim back upstream. Although the Taupo has a small arbor, when filled with backing there's sufficient effective arbor diameter to achieve a goodly retrieve rate for fish swimming toward me.
Since the Perfect series does not have a counter balance, there's an ever-so-slight wobble on fast runs, which I found only heightened the entire audio-tactile experience. The wobble is much less than I've experienced with other reels without counterbalances, because the weight of the handle on the Perfect is low in relation to the total weight of the revolving parts: including a spool with minimal porting and a winding plate with large check wheel.


Balance
The Taupo provided a perfect balance on my 12 ft 5wt rod when loaded with 100 lb hollow core braid.
The balance point with the head out was just in front of my index finger when gripping the rod to cast. I therefore didn't have to alter my grip between casting and swinging.
I tried the Taupo on an 11 foot 4 inch Mission 4wt, which has shorter grips, and the balance point was close to where my middle finger gripped the rod while casting. While this is theoretically okay for casting, the additional weight seemed to dull the feel and fun of casting this light crisp rod. My ideal reel weight for the 4wt was 7.5 ounces loaded with backing and running line.
Maintenance
Hardy Perfects have an unusual yet very attractive design.
The handle, spindle and check wheel are attached to a winding plate. The naval brass spindle passes through a naval brass bush attached to the side plate on the frame, that also supports the pawls for the check mechanism and a ball bearing, and then screws into the far end of the spool.
This design is now known as a direct-drive plate-wind, and has been copied to varying degrees by many manufacturers of fine Spey reels, including Farlex and SpeyCo.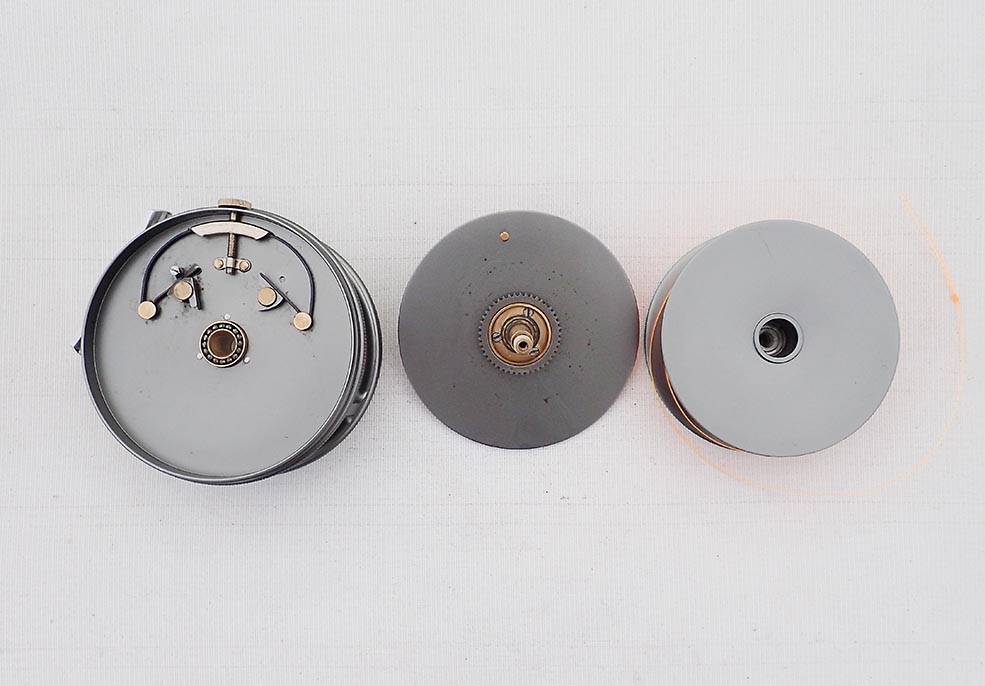 Hardy Perfect dismantled with check system and front of spool shown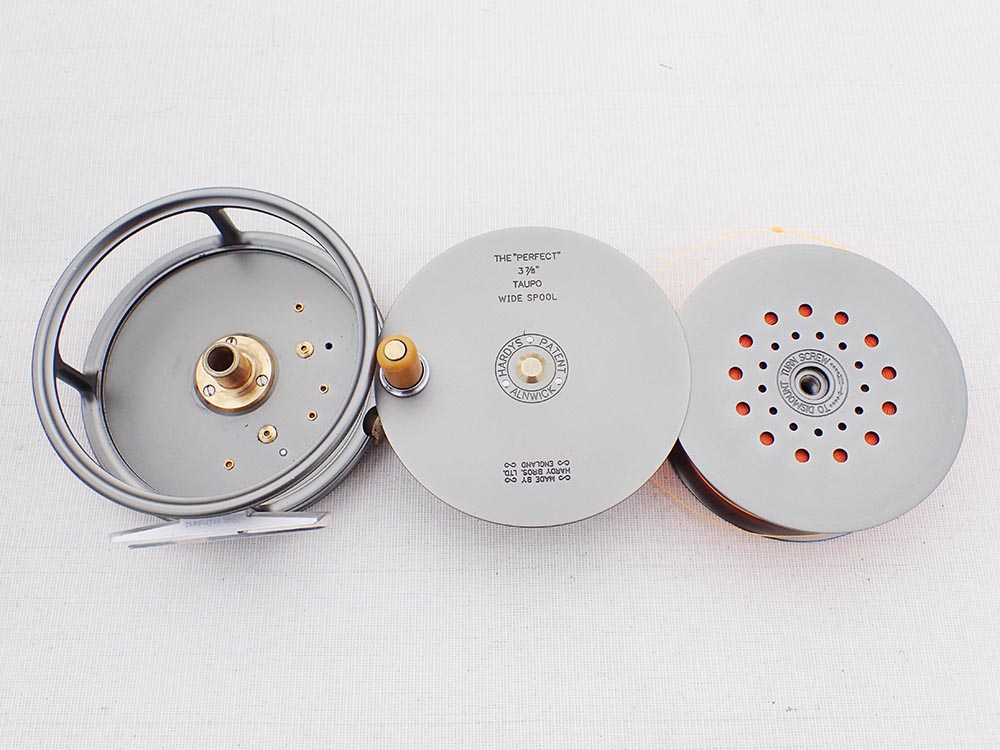 Hardy Perfect dismantled with cage and back of spool shown
As there's no sealed drag system or sealed ball bearing very little can go wrong, and with a little basic maintenance a Hardy Perfect can easily last for more than a century.
My reels get dunked a lot and the Tongariro river carries fine pumice that's extremely abrasive, so I maintain my reels more frequently than usually required.
After every usually week long Tongariro trip, I strip down the reel, then with ear buds and an old cloth clean off any dirt as well as old grease and oil, then re-apply the oil and grease sparingly. Too much grease attracts pumice and grit that will cause abrasion. This whole process takes only 10 or 15 minutes.
If your reel isn't dunked then one service every season is probably all that is required.
According to the instructions that come with new Hardy Perfects, grease should be applied to the spindle, including the thread at the end, as well as the ball bearings and retaining screw. A little oil is recommended for the handle, bush, pawls and thread of the click-check, which should always be turned to minimum for storage to avoid compressing the springs.
Since the spool on the Perfect series has minimal porting on one side and none on the other side, it's important to ensure the line and backing have completely dried before storing. As my reel is often dunked, at the end of a trip I remove the head and running line then give the spool a week in the open before returning the running line and storing the reel in its pouch - in anticipation of my next fishing trip.
Conclusion
The Hardy Taupo Perfect is a fantastic reel for a 12 ft 5wt Spey rod, especially one used predominantly on the Tongariro River.

Click and pawl reels may not be for everyone but, for me, the Taupo Perfect has definitely taken my Spey fishing experience to a highly pleasing new level.
In addition to its history and classic good looks, the Perfect's sound and ultra smooth function make this click and pawl reel a true joy to fish. And time has taught us the Perfect should last several generations making it a trusty, reliable and good investment.
My experience with the Taupo has been so good that I now have my eye on a 3 3/8 Wide Spool Perfect, which at 6.2 ounces should be ideal for my 11.3 foot 4wt Trout Spey.
The only warning I have : Hardy Perfects are highly addictive and Spey anglers with refined taste and a sense of history can be particularly vulnerable.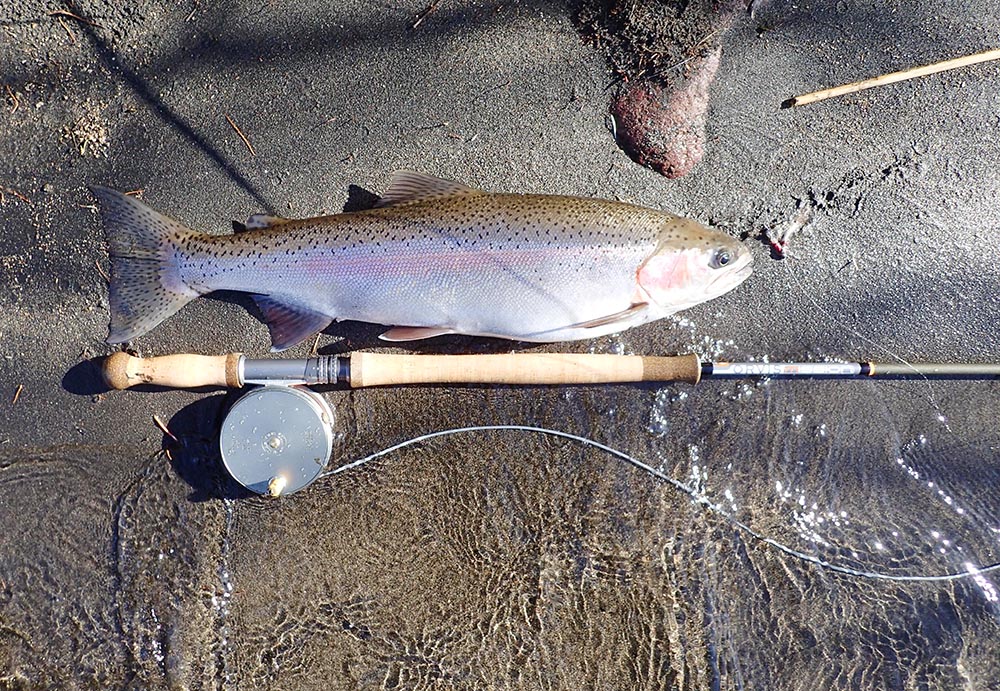 See other reviews :