I was keen to test the Douglas Sky G 5wt ever since it won the Yellowstone Angler 5wt shootout in 2020. I could only test this rod in 2022 when Flyshop NZ became the first New Zealand importer of Douglas fly rods.
I fished the Sky G 5wt for three months over the summer of 2022/23 and this review is based on my experience with this excellent fly rod.
Construction
Since the Sky G 5wt has been available for a while I'll skip the detailed physical description. Suffice it to say, this rod's fit and finish is excellent.
The blank includes graphene platelets in the resin matrix for added strength, and the REC titanium shape memory CERECOIL stripper guides with zirconia inserts and single foot REC titanium RECOIL guides are crush proof and basically indestructible. The dark grey non-glare finish includes graphene for extra impact protection and the nylon bushings in two up-locking reel-seat rings ensure they remain in place when the reel is attached.
Rod action
Flex profiles provided in the Yellowstone Angler review reveal that the Sky G 5wt has a soft tip, a common feature of modern fly rods enabling them to perform better at close range. What is not evident is that as more force is applied, the transition through the blank to the powerful butt is fairly smooth and even, unlike the sharp transition in some of my other rods, e.g. Loomis NRX LP.
Although the Sky G 5wt has the flex of a medium action rod, the high modulus graphite, reinforced with graphene micro particles results in very fast recovery and hoop retention under load, all of which are key to the rod's exceptional performance.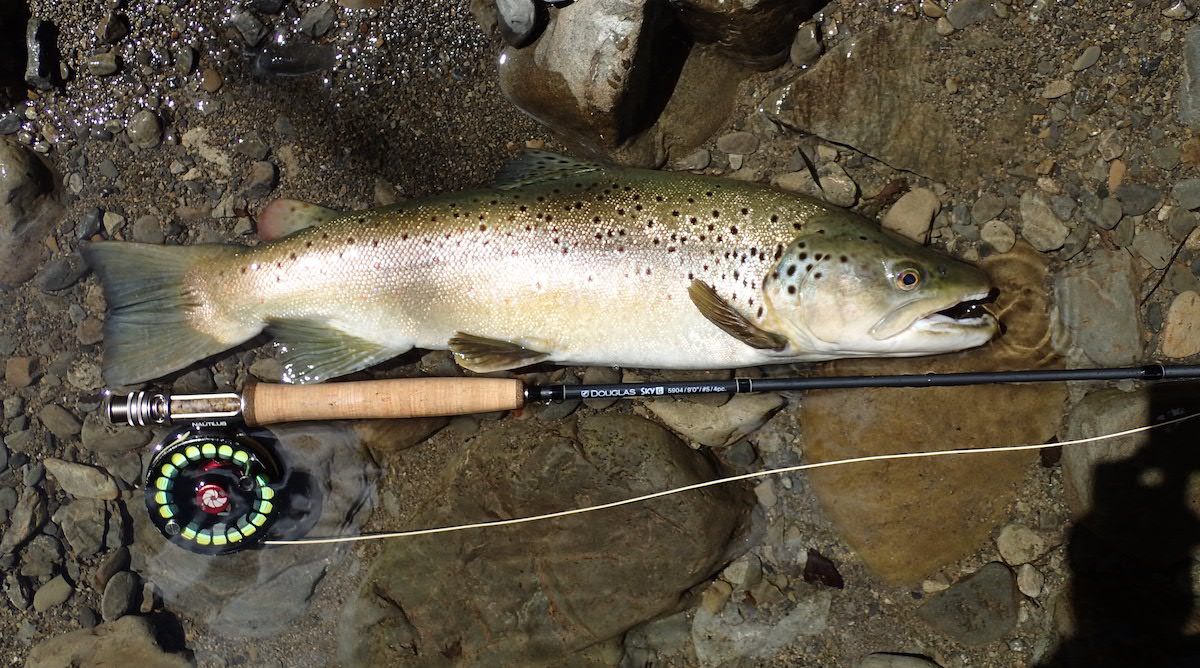 On the water
The Douglas Sky G has the lightest swing weight of any 5wt I've laid my hands on. It's also by far the most sensitive and accurate 5wt I've had the good fortune to fish with.
When strung with a Scientific Anglers Amplitude textured MPX, this rod effortlessly casts a size 6 cicada fly on a 15 foot leader at distances of 35 to 70 ft (46 feet of fly line outside of the rod tip), with fewer false casts than I'm used to.
The Douglas Sky G is uncannily accurate at all distances within this range and the incredible feedback made it easier to judge distance. Presentation using the Scientific Angler's MPX is also noticeably better than when using this line on the powerful Hardy Zenith I usually fish with.
The Sky G 5wt did run out of steam beyond 70 ft, at least in my hands. However distance is seldom an advantage when casting to visible fish on New Zealand's gin-clear backcountry streams. Most times an accurate first cast of 35 - 60 feet with decent presentation and minimal false casting is critical to fooling the wary fish, and the Sky G is unbeatable at this game. The rod's non-glare finish is also an advantage when casting to sighted fish in clear water.
Even though the Sky G 5wt flexes deeply it doesn't bend into the cork and there's more than enough power in the butt to put the brakes on big strong backcountry trout. I never once found it necessary to tighten the rings on the reel seat while fighting a fish - an irritation I experience frequently with other fly rods, as the nylon bushes in the reel-seat rings do a great job.
The Sky G 5wt's deep even flex with fast recovery makes it exceptional for roll casting and single hand Spey. Paired with a SA Creek Trout, essentially a 24 ft integrated Scandi head, and 15 foot leader it's a Spey caster's dream. This combination also overhead casts very well, achieving surprising distances and excellent presentation with one or two false casts.
The Sky G with MPX or Creek Trout had no trouble casting large bushy dry flies, two tungsten bead nymphs (2.5 and 2mm and 3mm and 2mm) and a small polyyarn indicator, as well as small to medium lightly weighted streamers.
Although the SA Amplitude textured Infinity is an excellent general purpose line on my Zenith, it's not my favourite for the Sky G 5wt. It seems that using a line a half size heavier on the Sky G, than a line with a shorter head works better - as this rod lacks the power to aerialise a long heavy head.
Although I did not try a true-to-weight presentation line - like the SA Amplitude Trout or Trout Standard - I suspect it would work well for smaller dry flies and nymphs during mayfly hatches. I think that presentation on the Sky G should be exceptional and the lighter head will likely allow more line to be carried in the air.
Another line-pairing worth a mention is the 185 grain Guideline ULS 3D+ head in S1/S3/S5 configuration. I fished this triple density 20 ft hybrid head with a sink tip made from a 3 ft section of S6 Sonar leader and 25 lb SA flat mono running line. This head system Spey casts and overhead casts incredibly well on the Sky G, easily handling bead head Woolly Buggers size 8 - 6, 2.5 inch rabbit tube flies with small tungsten cones, and #2 Clouser Minnows with brass dumb bell eyes. Seventy foot casts were effortless.
Warranty
As many of us experienced during lockdown, having a fly rod returned and repaired in the USA can take more than six months. The cool aspect about the Douglas warranty is that they don't need to see the rod, they simply replace the broken section - free of charge if deemed to be a factory fault or for $100 NZ if due to user error. Flyshop NZ carries most parts for popular models, including the Sky G 5 wt. So if you manage to break a tip you should be back fishing in 2 to 3 days.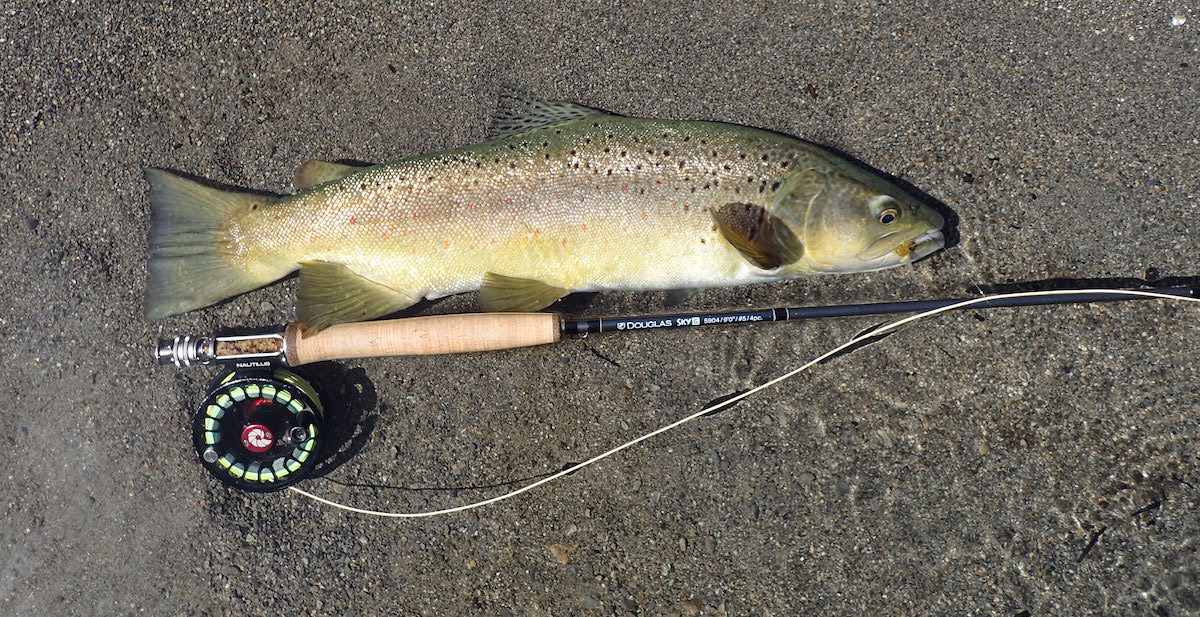 Conclusion
I've tested a lot of rods since purchasing my Hardy Zenith a decade ago, and the Douglas Sky G is the first 5wt rod that's inspired me to upgrade my favourite backcountry 'stick'. The Douglas Sky G's insane accuracy, both in close and out to 70 ft, combined with great presentation is guaranteed to translate to an extra fish or three on each outing.

Accuracy and delicate presentation in short to medium distance also makes the Sky G my first choice for mayfly hatches.

Given my passion for Spey Casting, the Sky G and Creek Trout is the outfit I'd reach for when fishing soft hackles or swinging caddis flies at night. This combination will also be good for stalking fish on lake shores.

Team a 185 grain Guideline ULS head with the Sky G and I am geared to fish decent sized streamers on my local rivers and estuaries.

The Sky G 5wt has a reputation for being the ultimate dry fly presentation rod, but it offers so much more.
I can see myself using this rod in a lot of classic New Zealand fly fishing situations, and apart from incredible performance it is such a fun rod to cast.
Thanks to Steve Gerard from Flyshop NZ for providing the Sky G 5wt rod to test.
See more reviews :